Amazon brought Prime Day back (and, for the first time, I get to bring you all the best Amazon Prime Day deals for your home! )
After a crazy year (who would have thought that by mid-year the term "2020" would become an adjective that meant something like, "horrible, unexpected, and overwhelming"? As in, "that's so 2020"), finally some good news.
Want to jump straight to the list? Click here.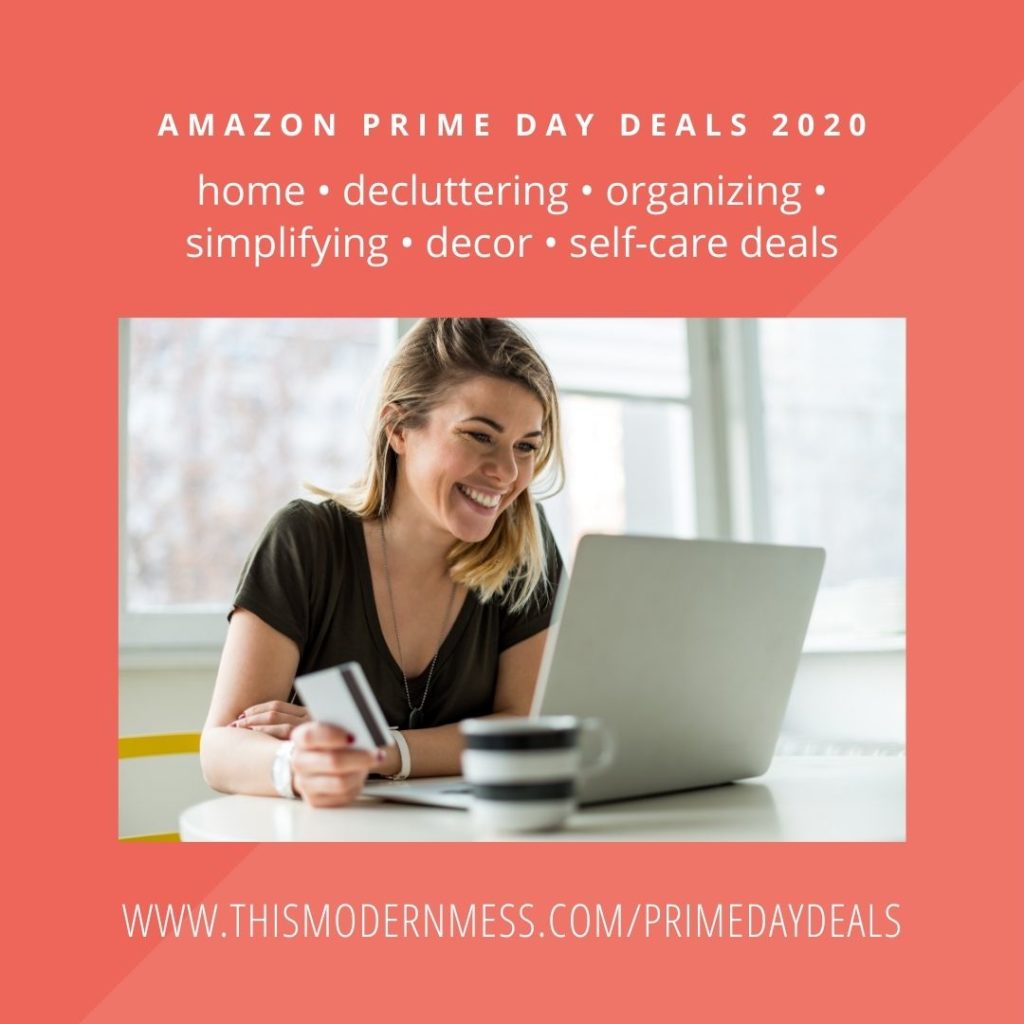 This post contains affiliate links, meaning I might make a small commission (at no extra cost to you) if you click on a link and make a purchase.

You can read our full disclosure here.
What is Amazon Prime Day and How Does It Work?
That's right. October 13-14, 2020 is Amazon Prime Day this year, an exclusive Amazon Prime members-only event with sales prices that can sometimes rival Black Friday or Cyber Monday.
Deals go live on a daily or hourly basis. Some deals are considered "lightning deals" and are only available at a certain time and end when a deal is fully claimed.
What if I'm not a member of Amazon Prime?
Not a member of Amazon Prime? No worries! You can trial it FREE and take advantage of Prime Days and everything else Prime has to offer during your trial period (free 2-day shipping on many items is only one of the many benefits.)
What do I need to know about Amazon Prime Day?
Sales on Prime Day tend to go FAST.

My big tips would be to know what you're looking for, grab the lightning deals and check out immediately for each one so you don't miss out.
Also, make use of the waitlist option. You never know if somebody will change their mind last minute at checkout or cancel an order and suddenly open up a spot you can grab if you're on the waitlist.

Better yet, look for "upcoming deals" and put an item in your cart in advance so you're ready to go when the timer starts.
But enough chit-chat. On to the deals!
I'll be updating the Prime Day deals for your home on this page as I discover them. Check back often!

Please note that I have not personally used every item on this list, although I have done my best to either list products I have used or I know have a good reputation. When I'm not sure about an item, I go and look at how many positive reviews it has and select a deal that way.

(p.s. Due to how fast deals come and go for Prime Day, this list may not have the most up-to-date information. Always double-check to see if the deal is still in effect if you are interested in an item!)
Best Prime Day Deals for Home
Home
Instant Pot Ultra 3 Qt 10-in-1 Multi-Use Programmable Pressure Cooker – we have a different model, but we love our Instant Pot for quick meals. My friend says she's cooked a chicken from frozen. I haven't been so brave yet, but it was the comment that convinced me to buy an Instant Pot. I mean, I always forget to thaw my meat in time for making dinner!

iRobot Roomba 692 Robot Vacuum – we have a different model–I think, not actually sure about that, it was a Christmas present–but watching my little robot helper, Rosie, do her thing is great family entertainment and a time saver for me.

TUFT & NEEDLE – Original Queen Adaptive Foam Mattress – we own a king size, a full sized, AND a twin-sized of this bed and love them. Highly recommend!

Echo Show 5 – I have to admit, these are pretty cool. My dad has one and it shows recipes and news headlines and I always learn something new, just walking in his house.

Echo Dot (3rd Gen) – Smart speaker with Alexa – Charcoal

Certified Refurbished Ring Video Doorbell Pro – we got one when there was a rash of package thievery over the holidays at our old house. Our new home has one, too. It's especially useful for seeing when items are delivered.

Blink Mini – Compact indoor plug-in smart security camera, 1080 HD video, motion detection, night vision, Works with Alexa

Amazon Music Unlimited – monthly music membership

Shark ION Robot Vacuum AV751 Wi-Fi Connected, 120min Runtime, Works with Alexa, Multi-Surface Cleaning

PowerLix Milk Frother Handheld Battery Operated Electric Foam Maker (this one has over 22k 5-star ratings)

Milk Frother, Aicok Electric Milk Steamer with Hot or Cold Milk Froth

Milk Frother, Electric Milk Steamer with Hot or Cold Functionality, Automatic Milk Frother and Warmer – we have a similar one and enjoy the luxury of warm, frothy milk in our morning coffee!

Beeswax Food Wraps 6-Pack – an earth-friendly plastic wrap alternative.

Porcelain Serving Bowl Set Nesting Bowls – Set of 2

AmazonBasics 18-Piece White Kitchen Dinnerware Set – I ordered a set for myself! (Well, for my family). Our main set is one I've had since I was single, and a bunch of pieces have broken or disappeared over the years. So I was excited to find a nice plain white design that was super affordable. Thanks, Prime Days!

AmazonBasics Stemless Wine Glasses (Set of 4) – I have a different brand, but they are my favorite glasses, even when I'm not drinking any wine.

AmazonBasics Enameled Cast Iron Covered Dutch Oven, 6-Quart, White

Zwilling J.A. Henckels Spirit Ceramic Nonstick Cookware Set, 10-pc, Stainless Steel

Keurig K-Mini Coffee Maker – I have my eye on the cute teal one!
Home Decor
Cleaning
Organizing and Storage
Moms
Kids and Families
Early Gift Shopping
"Just Because"
(If I find anything just plain amazing, odd, funny, or too weird not to share, I'll put it here. Enjoy. 😂)
If you're new here, welcome! I'm Andrea Brame, and I am obsessed with all things decluttering, organizing, and simplifying at home.

I started This Modern Mess to help other women (especially moms with kids at home!) conquer the chaos in their homes so they can spend less time doing housework and more time with the people they love, doing the things they enjoy.
Sound good? Take a look around! Here are some recent posts to get you started on your path to simplifying your home:
Want even more inspiration? Like our Facebook page for daily inspiration and join the Clutter Fighters private decluttering Facebook group where we cheer each other on in our journey to conquer the chaos!