24 Decluttering Motivation Tips You Absolutely Need to Try
In this article: a list of practical and fun decluttering motivation tips to help you get your clutter under control.
When you decide to get organized and declutter your home, the initial rush of inspiration (or frustration) can spur you into action. It's happening! You're going to make things better!
Maybe the urge to purge your stuff often rose to the forefront of your mind around New Year's. Or maybe you read some books or watched The Home Edit or Marie Kondo's Tidying Up show on Netflix.
But then you stand in front of the cluttered closet or overflowing attic and that initial surge of motivation begins to fade as you face the sheer amount of stuff before you. Your mind flits to other things you could be—or perhaps even should be—doing.

Listen. That's 100% a normal reaction. You're human, and busy, and well, there's no way around it: decluttering is hard work.
Just like any resolution made with the best of intentions, your initial burst of enthusiasm can sputter and fizzle out.
Why do I have no motivation to declutter?
You might feel some decluttering paralysis at the beginning of your project, or decision fatigue while in the middle of it.

Or, you might feel anxious in the pit of your stomach about all the stuff you'll find and how you'll feel about it during the process.

You might feel negative emotions, like shame, fear, guilt, or remorse when items are revealed while decluttering that you regret buying or that make you remember situations you'd rather forget about.

You could lose steam and motivation when the project feels exhausting, boring, or frustrating.
How can I motivate myself to declutter?
So, how do you break through those mindset blocks and activate your own internal motivation to get started decluttering your entire home?
How do you harness that initial enthusiasm and stretch it out? Check out the decluttering motivation tips in this list.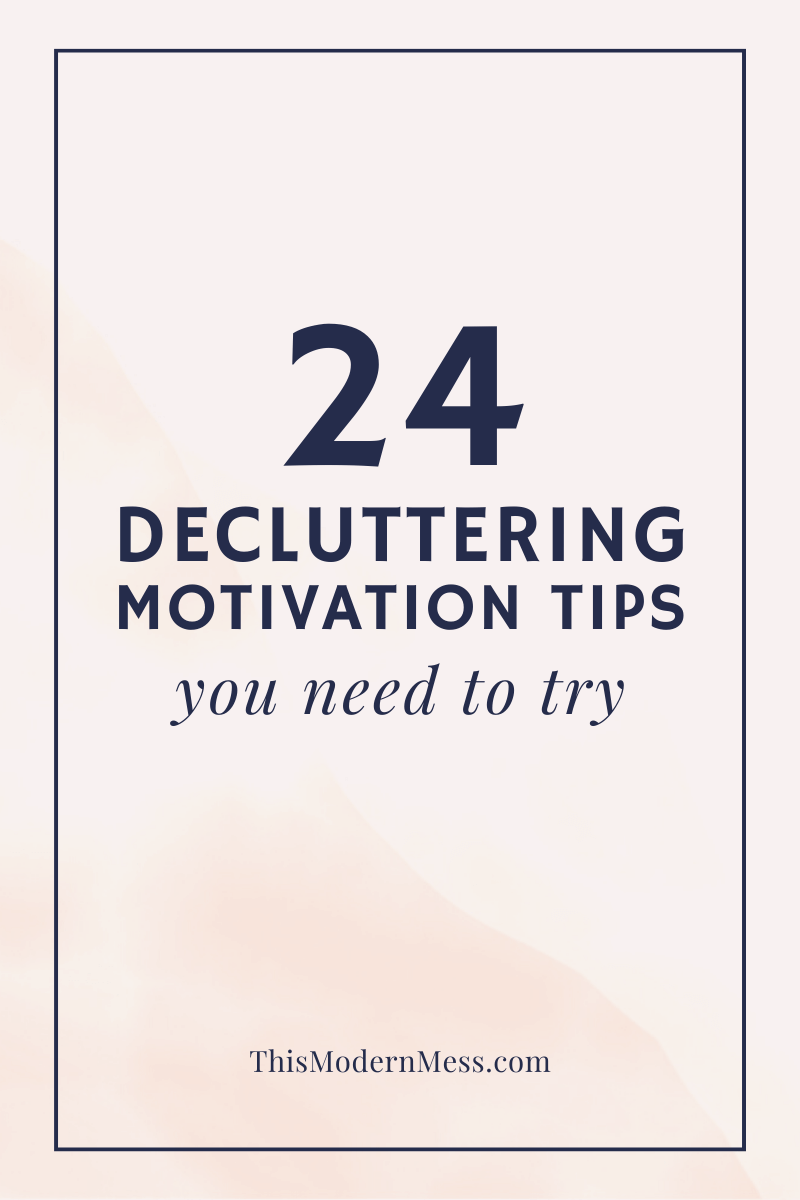 The Top Decluttering Motivation Tips
1. PICTURE THE OUTCOME
Picture the finished product in your mind. Elite athletes do this all the time while preparing for an event. Ever seen Olympic skiers warming up before it is their turn to glide down the snowy course ahead of them? They're often listening to music, eyes closed, picturing each turn of the course in their minds, leaning and adjusting to the curves and bumps and flags along the way.

Do something like that. Explore the emotions you'll release by looking around with pride at what you have done. Involve as many senses as you can, to make the image come to life. What does the finished outcome look, feel, sound, and even smell like? How will this outcome improve your daily life?
Having trouble envisioning it internally? Go external, and make a digital or even physical vision board, if that's what you need to do!
2. REWARD YOURSELF
If rewards are what motivates you, find your carrot. When you start feeling like decluttering is exhausting, commit to rewarding yourself with that carrot when you have completed a specific task. Then follow through on your promise to yourself.
Rewards do not need to be particularly expensive, but make them count!

Some reward ideas:
Treat yo'self. If you meet your goal, book a massage, buy the purse you've been eyeballing for weeks, enjoy some downtime with a book.

Book an event you're excited to go to, and then only go if the job is done.

After you've decluttered, invest in organizing products or decor that make your space both functional and beautiful.
3. CREATE (OR REMIND YOURSELF OF) A CONSEQUENCE
On the flip side, maybe the reward doesn't get you to work hard enough for what you think you want. Okay, but will a consequence do the trick instead? What's your stick?

Some consequence ideas:
If you don't clear out this drawer in an hour, you will put $5 in a DNF (did not finish) jar to save for future home improvements … or, if you want to really put the pressure on, for your partner to spend on something for themself.

If you don't get rid of extra clothing you don't wear by the day you said you would, you'll text a friend a picture of your closet and a sad gif and they will (as planned) remind you why you wanted to declutter.

Invite a friend over for dinner the day you want to have completed decluttering papers from your dining room table. Don't back out at the last minute if you still have the papers there.

Or maybe, one of the biggest consequences of all, if you're decluttering for a move, you'll know that you'll miss your listing date or lose the perceived value of your space to home buyers because it won't be done in time.
4. PLAY UPBEAT MUSIC

Music is a great way to boost decluttering motivation, boost your mood, and get you in the zone. It helps to improve focus and concentration for studying and has even been shown to improve performance and delay exhaustion while exercising. So why not use it to boost your mood while decluttering or organizing, too?

I'm personally partial to lo-fi hip hop for focus tasks and anything ridiculously poppy and happy for sing-and-dance-along cleaning sessions in my own home. (No, seriously. I made a playlist for that.) But you might be more into calming classical or frenetic punk tunes. Pick a favorite playlist that works for you.

So next time you need a little push to get through a tough project, try putting on your favorite tunes and see how it can help you power through.
5. LIGHT A CANDLE
Not only is the gentle motion of the flame relaxing if you feel tense, but scents have a powerful link to our memory and emotions. They're an easy and affordable way to make any space feel cozier and more inviting. And they're just pretty.

Pick your favorite scent to keep you going. Something bright and citrusy or refreshing and minty will lift your senses and spirit.

And if you're sensitive to scents? You could go flameless and get an LED version.
6. THINK SMALL
Don't worry about the whole task. Focus on just the one part you have in front of you if thinking about the rest is too overwhelming. By taking small actions, you can build momentum and bridge your mindset from "I can't do that" to "well, maybe I can do this part."

Do that small thing. Then the next. Then the next. (This is particularly useful if you've taken the time to break your projects into actionable steps in advance.)

These small actions, done consistently, will lead to bigger changes and impact in the long run.

How do you eat an elephant? One bite at a time.
7. PUMP YOURSELF UP
Find a YouTube video with an inspiring YOU CAN DO IT GO SEIZE THE DAY kind of larger-than-life coach talking over inspirational music. Recite affirmations. Watch Rocky run up the stairs. Be your own hype woman in the mirror.

And always remember … you're worth a tidy home.

8. EAT THE FROG
Do the most unappealing task first. Eat your frog, as Brian Tracy says (referencing a Mark Twain quote) in his book Eat That Frog.

The goal here is to take the thing you dread the most off your to-do list so it isn't looming over you all day. So if you've been putting off going through the old box of bank documents in your closet and have been avoiding decluttering in there as a result, grab the box and go to town.
9. EAT THE CAKE
Maybe the thought of "eating the frog" depresses you more than anything and is the least likely way to get you going. Well, do the opposite, then! Do the most exciting task first. Have dessert before dinner, if you will. Eat the cake!

Been dying to organize your shoes by color and style? Declutter those first, so you can jump right in to that delightful task!
10. HACK YOUR WILLPOWER
Do things that replenish your energy throughout the day so you can start fresh after breaks, but put a time limit on it (so it doesn't become your WHOLE day).

Some experts say you could naturally deplete your willpower as the day goes on, so if you find that is the case for you, try to tackle the task your avoiding earlier in the day while you still have the willpower to power through.

Others say that you don't need to worry about that, because willpower just fluctuates based on circumstances and they point to forming habits as the key.

Either way? The key is to not burn yourself out and be mindful of how much you are making your brain work in the process. The more you have to think about your task, the more willpower it will take to complete it.
11. FORM A HABIT
It takes up to 6 weeks (or more!) to form a habit, but if you make decluttering a ritual that you do every day, or every week, eventually that will start to stick. You won't be fighting your own fickle willpower and will be relying, instead, on your routine/habit to follow through.

When an action is so ingrained that you don't even have to think about it—like braking, or pushing the gas pedal in a car in response to changes in traffic—you've got yourself a habit.

But the key is you need to practice consistently to get that kind of muscle memory. So don't make decluttering a huge event … make it a regular, mundane thing you do in your everyday life.
12. SET REMINDERS
Yes. Actual phone reminders or calendar alerts, heck, even recruit Alexa or Google Home, if needed. Don't rely on your own brain. Delegate and outsource that task.

Schedule your decluttering time around your lifestyle, by finding the pockets of time when you are most likely to be able to focus on the task.
13. USE A TIMER
You can either use your phone or better yet, a kitchen timer, which won't distract you with alerts while you work.
A really useful way to employ timers is with the Pomodoro Technique, developed by Francesco Cirillo. With this, you'll work in 20-minute ultra-focused chunks of time, divided up with 5-minute rest periods in between. This helps reduce fatigue.

Want to really up your game? Try to race the timer and finish your task. I particularly like to use musical timers on YouTube for this.

14. BOOST YOUR DOPAMINE
Does your brain resist getting interested in your decluttering task? Maybe you need a little extra dopamine to give you extra decluttering motivation. Dopamine is a chemical messenger, a type of neurotransmitter that sends messages between cells. It affects our mood, how we feel pleasure, and how we think, plan, focus or pay attention. Have ADHD? It could be the result of a dopamine deficiency.

Here are some dopamine-boosting ideas:
Take a nature break
Get moving—go for a short, brisk walk before getting started
Pet your dog or cat
Mix it up! Do your decluttering tasks in a different order than usual
Give yourself gold stars on a chart for every box of donations you collect or bag of trash you toss
Catch some rays—sunlight increases levels of mood-boosting neurotransmitters
NOTE: Dopamine levels can also be influenced by underlying medical conditions, so it's always best to consult with a healthcare professional before making any changes to your health routine.
15. LOWER YOUR CORTISOL
Cortisol is a stress hormone that is released by the adrenal glands. In this busy, stressful world we live in, it's easy to have elevated cortisol.

So how can you lower your cortisol levels?
Get enough sleep
Exercise moderately
Practice relaxation techniques like yoga, deep breathing, or meditation
Do things you enjoy
Laugh!
Reduce or avoid caffeine and/or alcohol
NOTE: Cortisol levels can also be influenced by underlying medical conditions, so it's always best to consult with a healthcare professional before making any changes to your health routine.
16. GET INSPIRED
Find a person whose story about overcoming adversity really inspires you. How did they achieve their goal? How did they beat the odds? Why was success so important to them?

Be a fan and emulate their behavior.

And if nobody stands out, be your own hero. Dig deep and ask yourself why you are getting rid of clutter? How will living clutter-free improve your life?
17. DISPLAY YOUR GOAL
Place your goal where you will see it every day.

Type it up and print it out. Tear a sheet of college-ruled paper out of a notebook and scribble it down. Use your kids' markers and leftover scraps of construction paper. But write it down and post it somewhere unavoidable like your bathroom mirror or on the inside of the door to your bedroom. Then look at it often.
18. EXPOSE YOUR DEMOTIVATION
What is standing in the way of your motivation?
What struggles or concerns do you have about decluttering and organizing your home? Is the process unclear to you? Is your goal misaligned with your personal values? Are you confused about anything? Are you feeling constricted, controlled, or otherwise lacking in autonomy during the process? Are you bored? Grieving? Lonely? Burnt out?

All of these are good questions to ask yourself so you can uncover the root cause of your demotivation and gently guide yourself toward regaining the motivation to declutter.
19. STAY ACCOUNTABLE
Tell a close family member or friend about your goal for your home and ask them to check in on you occasionally, without warning, to see how things are going.

If you'd rather keep things closer to your chest, consider journaling about the decluttering process and the emotions it brings up for you.
20. SHOW OFF
Take before-and-after photos of the areas you declutter and organize and post them on social media. People love a good transformation! If praise keeps you going, use it to your advantage and post progress often.

Or, wait for the ultimate reveal, and show off your completely decluttered room or home when it is completed!
21. PHONE-A-FRIEND
Gather a support system—people who will lift you up out of your funk and support your efforts. This could also be a coach (like me!) or a forum or group of like-minded individuals who will cheer you on.
22. FIND A BODY DOUBLE
Speaking of friends, perhaps one of the best ways to motivate yourself to stay focused while you're decluttering is to employ a technique called body doubling. What is body doubling? In its simplest form, it's another person in the room (or watching you) and either working with you, or maybe even just keeping you company while you work. By having that person observing what you do, it helps you focus and acts as a visible reminder that you should be working!

Body doubling is a productivity strategy often used to help those with ADHD stay on task easier, but it is useful for anyone who has a tendency to get bored while decluttering and cleaning.
23. REVISIT THE CHALLENGES
Take inventory of how the current state of things impacts your daily life. What could you be doing more easily or quickly if you knew where everything you owned was? What is hard to do now because you don't? Is there any relationship friction because of your clutter? How does it affect your ability to parent, do your job, or enjoy your life?

What specifically is it that drove you to the point where you knew you needed a change?
24. LIST THE BENEFITS
Now, take those challenges and list out how improving them and turning them into assets for you will change your life. What will be the benefits of decluttering your home? Flip the negatives into positives.

For instance:
Misplacing your keys and frequently being late for work as a result? Having a specific place to put them will mean less time lost hunting for keys and getting out the door easier, and on time.

Throwing out food and wasting money because you forgot what you had in the pantry, refrigerator, or freezer? Having easy access to quickly see your stock will result in more money saved.

Wanting to have friends over but feeling embarrassed about the piles in your living room? Making room for your belongings by decluttering and then organizing what is left will result in an easier time tidying up and more spontaneity to invite people over.
Decluttering is a Lifestyle
When you're struggling to stay motivated to keep going, be kind to yourself.
Take a deep breath.
Focus on the outcome you're envisioning, then follow a few decluttering motivation tips from this list and find which one works best for you. Above all, avoid getting bogged down by perfectionism. Remind yourself that decluttering is a journey—a lifestyle—not a destination, and every step you take towards a simpler and more organized living space will be worth the effort.