Organizing Ziploc Bags Made Easy With These Quick Tips
In this post: Everything you need to know about organizing Ziploc bags
Ziploc, ziplock, storage bags, storage baggies … whatever you call them, the small plastic bags that hold everything from sandwiches to LEGO bricks are ubiquitous in many homes. (And if you don't have them, you likely have their substitutes—reusable storage bags.)
But they're also challenging to organize neatly.
Are you tired of moving around a mountain of Ziploc bag boxes in your drawer or pantry every time you need to store food? Do you feel like you need a map and compass just to find that one specific kind of bag you know you put in there somewhere?

Well, buckle up, my fellow bag wrangler, and hang on as we dive into the wild and wonderful world of Ziploc bag organization. (Hyperbole? Never!)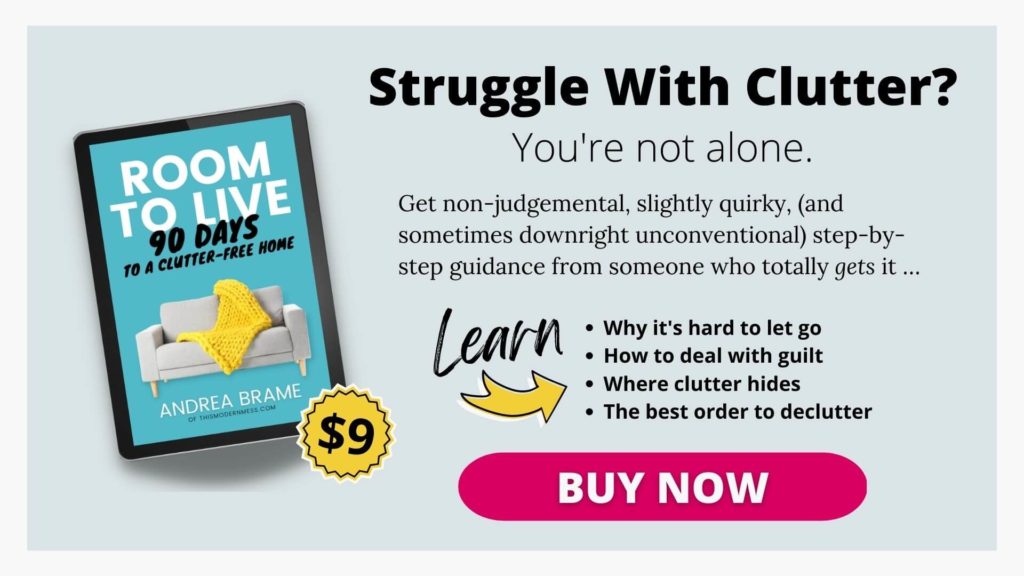 May contain affiliate links to items for which I receive a small commission at no extra cost to you, if you click through and take action on an offer. As an Amazon associate, I earn from qualifying purchases.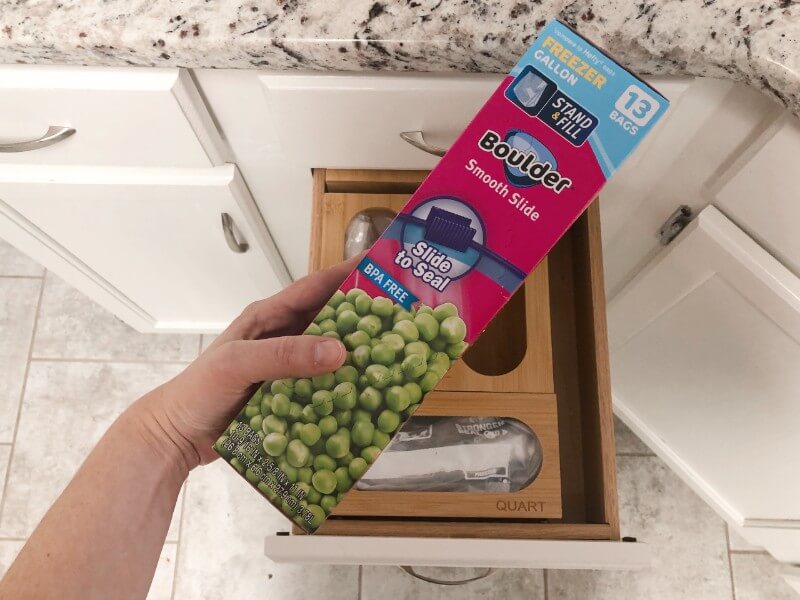 Types of Ziploc bags
Let's figure out what you'll be storing in these organizers …
First up, we have the humble snack bag. You know the one – it's perfect for storing your mini pretzels, your apple slices, your random handful of Cheerios that your toddler insists on carrying around with them everywhere.

Snack bags are usually the smallest of the storage bag family, and they also tend to be fairly flimsy. They're sturdy enough to do the job, but you won't be keeping them around for anything other than a one-time gig.

Then you have sandwich bags. Excellent for your PB&J, and basically not used for much else.

These storage bags are flimsy and best for one-time use jobs, similar to snack bags, and usually come with a standard press shut closure.

In our household, these are the baggies that are used the least, but we still keep them on hand, just in case, for times when our preferred snack or quart sized bags are either too small or too big. Like Goldilocks knows, sometimes you need things to be "just right."

Speaking of quart bags, these continue our list, and are my personal favorite size of storage baggies because of their versatility.

From this size on, you'll generally have either seal tops that you press to close or a zipper-style slider, and that distinction will become important in the next section, when we go over the best types of storage containers for your Ziploc storage bags.

Next on the list, we have gallon bags (and larger). While these come in both regular storage and freezer strengths, I generally prefer the freezer strength for reasons I'll discuss next.

These are great for organizing things like snacks, toiletries, or craft supplies, or even to have on hand in your car for car sickness accidents, if you have a child prone to nausea.

Finally, there are the freezer bags. They usually come in quart or gallon sizes. These are a bit sturdier than regular storage baggies, with thicker plastic and more robust closures.

As the name suggests, these are great for storing things in the freezer (who would've thought?), but they can also come in handy for other purposes, like storing bulk items or marinating meats. And the quart-sized ones are great for carrying on travel toiletries through TSA.
Where to store Ziploc bags
Which of these types of storage bags does your family use the most, and where do you use them the most? That will determine your method of organizing Ziploc bags. Here are some factors you'll want to consider while assigning a storage spot for them:
Accessibility considerations
How often do you use this type of baggie? The more often you reach for it, the more accessible it should be. Don't be putting the gallon bags in front of the snack bags if you're packing up puffs or baby carrots all day every day.

Do you have any physical limitations? Don't store them on a top shelf if you'll need a step-stool or partner to get them down every time you need one. Likewise, don't store them in a bottom drawer or underneath the kitchen sink if your back is stiff or bending hurts your knees.

Do you want your kids to have access? For instance, are you encouraging them to pack their own school lunches? Make sure the Ziploc baggies are where they can easily get to them.

Do you frequently buy storage bags in bulk? You'll want to have a place to keep enough baggies on hand to use in a month or two, but not the entire huge box. If that's case, you'll need an additional, secondary, storage area for your back stock. Say, a garage storage shelf. Or a pocket dimension.

Where do you stand when you are preparing something that needs a storage bag? Are you usually packing a lunch? Storing craft supplies? Something else? Your needs will determine the best part of your kitchen or home to store Ziploc bags.

Best choice for Ziploc bag storage
Drawer Organizers
Drawer storage bag organizers look stylish and elegant in your kitchen or pantry. They often offer storage for snack, sandwich, quart, and gallon sized bags and either come in one piece or separate bins sold as a set.

Pros: Fit together cleanly, easy to read, classic appearance

Cons: Can be too large for shallow drawers. Also, sometimes storage bags with a slider closure have tops too wide for the holes in the containers. This seems to be a common complaint and is something I've been annoyed about with the ones in my own home.

However, manufacturers seem to be listening to customer complaints on this front and some have begun to widen the openings to accommodate this difference.
Wood


Wood is a less common choice for organizing Ziploc bags, with bamboo and acrylic being more favored, but there are some to be found, like this one, which has good reviews.

Its main drawback seems to be that there isn't a way to open the container, so all baggies go in the same way they come out—through the top holes.

Because there aren't as many made in wood, styles are more limited, but still generally attractive. However, both acrylic and bamboo offer more choices in label fonts and overall style.
Bamboo
Bamboo is one of the more popular choices for Ziploc bag organizers. There are many styles on Amazon right now, both in combination one piece storage containers and individual storage containers (sold as a set).
It's often praised for being a more renewable material (have you ever seen how fast bamboo grows?!) but the finishes may not match your aesthetic. If that's the case, wood or acrylic may be a better option.

Combo: This small business-produced organizer from the Organization Spot includes a spot for foil or plastic wrap all in one and can be put in a drawer, on the counter, or even mounted on a wall. It comes in natural bamboo or white.




Sets: Of special note, the manufacturer of this organizer says they took feedback on the quart size container needing to be wider to fit slider closures and widened the openings to make room.

Acrylic
Acrylic is the material of choice in many trendy pantries and kitchens right now. (Thanks, Home Edit!)

I do love a good see-through storage option, because it can make it easier to find items, especially for neurodivergent folks or anyone with a tendency toward "out of sight, out of mind".
However, clear isn't for everyone and can look messier if items are shoved willy-nilly inside. If you prefer a more opaque storage option that's more forgiving, bamboo or wood is probably more for you.
Combo: This combination storage container with clean, elegant lines and comes in a 6-in-1 option with spaces for aluminum foil and plastic wrap as well. Or, the more standard 4-in-1 option with different opening shapes. Both options can be put in a drawer or mounted on a wall.

While the manufacturer does say that their product supports slider quart bags, some reviewers have said they've had trouble fitting them, so your mileage may vary.

Plastic


Another less-common material is opaque plastic. The Youcopia brand seems to have cornered the market on this, but I'm not complaining. I've liked the products I've seen from them overall.

Like wood, there are fewer design options, as a result. But Youcopia is generally known for sleek design, anyway. So if you'd like an easy-to-wipe-down plastic that is forgiving of how you shove your storage bags inside the compartments, you might want to consider this one.
Fabric


Like opaque plastic, the only real contender in the fabric division of materials for organizers of storage baggies is a single brand.

While one reviewer gushed about how nice it was not to get splinters like you would with a bamboo or wooden organizer, others mentioned that the top did not stay shut as well as it would have if it included a zipper around the edges, and also that, as usual, the quart sized bag spot was too narrow for some quart bags.
Shelf organizers
Shelf storage bag organizers are often some combination of metal and either plastic or bamboo. It really comes down to preference which you should choose.

Pros: If you're short on drawers, this is a good way to add extra organization to your pantry or a cupboard. Tend to be more flexible with size of storage bags.

Cons: You'll still need to either keep your storage bags in their original boxes, so if that's not your aesthetic, either decant them into small bins and put on the shelves, or choose a different organizer option.


One of the key benefits of this Youcopia plastic shelf for organizing Ziploc bags is that it adjusts to the width of the boxes you put on it. This is really handy when you're not brand loyal and never know if something will be the exact same size or not when you buy it.




Cupboard door organizers
Cupboard door storage bag organizers are usually either metal wire or acrylic and are attached to the door with screws or adhesive.

Pros: Makes good use of unused vertical space in small kitchens.

Cons: Might be too bulky, depending on what you are storing in the cupboard you attach the organizer to. Will still need to keep storage bags in their original box or roll up to store them vertically.
You don't have to be limited to your kitchen drawers or pantry shelves when organizing your ziplock baggies. If hidden vertical storage is more your thing, you might want to consider one of these options that mount inside your cabinet doors.





Wall organizers
Wall-mounted storage bag organizers come in a variety of materials and are often drawer organizers that have been mounted with screws or adhesive.

Pros: Easy to access, saves countertop and drawer space.

Cons: Storage bags with slider closures may be too wide for the holes in the containers. May not be enough accessible wall space in smaller kitchens to make it worthwhile.
You can also go vertical on your walls when organizing Ziploc bags! I always recommend seeking out vertical storage, if possible, as it frees up your horizontal surfaces for use. If you'd like to have your storage bags in hands-reach at all times, you can modify many of the acrylic or bamboo drawer organizer options to be mounted on a wall.

There is also this metal basket option, for a little variety.


DIY storage baggie organizers
DIY Ziploc bag organizers come in all shapes, sizes, and materials. Pretty much only your imagination is the limit.

Pros: Most customizable option. Can be as decorative as you'd like it to be. Also can be quite affordable (or even FREE), depending on the material used.

Cons: Can be time-intensive to make, flimsy, or inconvenient.
While other categories of organizers are specific to a type of style or material, DIY covers a broad swath of options. I've seen little Dollar Tree plastic baskets in drawers, storing bags upright in a reused box, and even a handmade wooden organizer. Really, your imagination is the limit here. So go wild!

Oh, and I should note one more thing, however mundane. YES. It is a perfectly acceptable option, if your drawers or shelves and preferences allow, to simply open the darn boxes of storage baggies and line them up in the order you need them … and leave it at that.

You do you, boo.

Don't let the Pinterest-perfect pantries peer pressure you into perfection. (Phew. That was a LOT of P's). Keeping things simple? Sometimes that's the best way to go for your busy lifestyle. And that's okay.
How to organize Ziploc bags
Once you know where you'll be using your storage bags the most, why you'll be using them, and what area of your home you'll need them to be accessible in, the next step is to organize your bags!
Always start any organizing project by first decluttering. Be honest with yourself; do you actually use all of these kinds of Ziploc storage bags? If you've been avoiding the sandwich bags for months and just grabbing a quart bag for your turkey sandwiches, it might be time to ditch the sandwich bags for now.

Get rid of any empty storage baggie boxes, dirty bags that have slipped out of their containers into a drawer or shelf and started to gather dust, and any baggie brands (name brand or generic) that you find haven't done the job the way you want them to.

Next, you'll want to measure the drawer, shelf, cupboard, door, or other spot where you'll be putting the storage baggies. It's easy to skip this step … eyeballing things is a lot quicker, but it will save you money in the long run to not buy (and then forget to return on time) organizing products that are the wrong size or shape for your space. You might find that the product you had your eye on is too big or too small for your space.

Know you size limitations? Great! Now it's time to select the material, style, and price point of the organizing products you'd like to store your bags in. Use the guide in this post to help make those decisions.

Empty the space where you've decided to store your bags. Do a quick wipe-down, prep the surface, and you're ready to set up your products.

Fill your baggie organizer with the types of storage bags you use the most frequently. Arrange your organizing product to fit the space and stay accessible for refilling, label the bag types as desired, and bada bing bada boom! you're done. Enjoy your new system.

Tips for maintaining organization
Sometimes, the most challenging part of any organizational system is the maintenance. This is where it can all fall apart if you're not careful. Organizing Ziploc bags is no different.

Now, if you've done your groundwork and stored your baggies where they are used the most often and made sure you're not zig-zagging the kitchen every time you need one, and grabbing the right bag is quick and easy, you've set a solid foundation for order.

However, it needs to be just as easy to refill and/or put away all the different storage baggies you've organized.
Continue to make sure you're only keeping the most used storage bags in your accessible spot. If you find your needs are changing, adjust your system.

You've solved the problem of disorganized, messy Ziploc bag boxes everywhere, but you've now created a new Ziploc bag box problem: what to do with those pesky boxes after you've emptied them out and decanted the bags into your new storage container? Make sure your organizing system also includes an easy way to store the boxes for recycling or disposal. Otherwise, the new pile will be those boxes you left behind, empty and all alone on the counter.

Refill the organizer promptly when you empty any one type of storage bag.

Don't be afraid to make changes to your system as your household needs change.
FAQ
How do you organize Ziploc bags?
It's best to organize them by size and type. (Snack, sandwich, quart, gallon, then storage vs. freezer strengths). You can store them in the boxes they came in, or in a storage container in a drawer or on a shelf in your kitchen.
How do you organize Ziploc bags with aluminum foil?
Generally speaking, the foil will be in a longer container than the baggies. So, put it next to the bags, lengthwise, if you have room. Just make sure that whatever you use more—the aluminum foil or the baggies—is easiest to grab and not buried under any other item in the drawer or on the shelf.

Or purchase a bamboo or acrylic drawer or wall-mounted organizer that has room for both storage baggies and aluminum foil or plastic wrap.
Where do you put Ziploc bags in the kitchen?
It's personal preference, really, but in general, I'd recommend putting Ziploc storage baggies close to wherever you prepare lunches to go, or wrap up leftovers. For non-food storage, consider how you'll most likely use the baggies, and put them close at hand for that. For instance, in a cart near a crafting table if you'll be using them for sorting beads or crayons.
Where to store Ziploc bags?
Store your Ziploc storage bags in a bamboo or acrylic organizer in a drawer or pantry in your kitchen. You can also use an organizer anywhere in your house where baggies may be needed, like the playroom or crafting area. Basically, keep your storage bags close to a workstation of any kind where storage is required on short notice.

Here's a list of potential places to store your baggies:
Kitchen drawer
Kitchen cabinet door
Kitchen cabinet shelf
Under the kitchen sink
In the pantry
On the wall
On the refrigerator
In a closet
In the laundry room
In the family room
In the craft room / office
In the garage
Conclusion
Organizing Ziploc bags is a small step you can take toward setting up your systems to help you be efficient in the kitchen.
But organization is only as good as it is able to be kept up with, so make sure that you declutter your baggies regularly (keeping only the kinds you actually use), take note if your new system is working for you (and what isn't), and pick a type of bag organizer that fits your style and functionality needs.

On that note, and fully acknowledging that I've probably said the words "baggie" and "Ziploc" way too much over the course of this one article, I'll leave you to it.
Go forth and conquer thy clutter!