Last night I realized Christmas was less than 2 weeks away. And then I thought, oh hey, I could do 12 days of decluttering for Christmas. So! I came up with a fun, easy-to-do 12-day challenge for the holidays.
It was all very spur-of-the-moment and whimsical. But I kinda like it that way.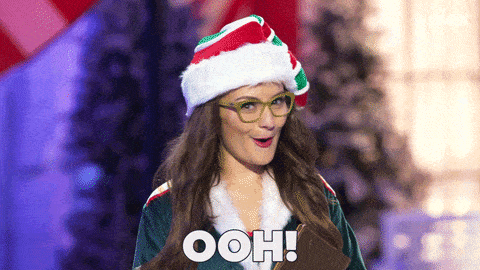 This post contains affiliate links, meaning I might make a small commission (at no extra cost to you) if you click on a link and make a purchase.

You can read our full disclosure here.
This means that for the next 12 days, through Christmas, you're invited to join me in celebrating the #12ClutterFreeDaysOfChristmas in your inbox through email (you can sign up for my newsletter here), on Instagram (@thismodernmess), on Facebook, and in our decluttering community on Facebook, the Clutter Fighters.
Wanna take a peek at the days ahead? Wish granted.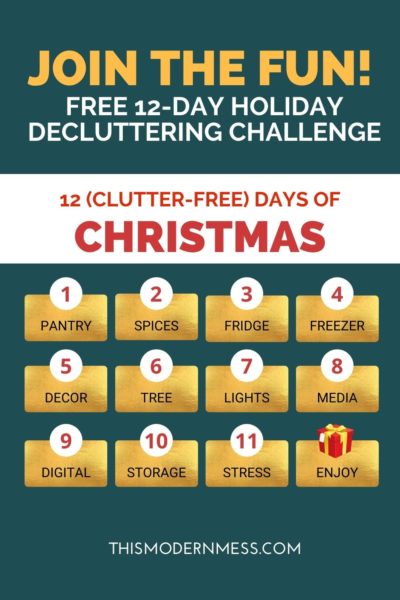 Each location will be sharing posts related to the challenge.
You can participate in one, or all, locations. I pinky promise all the challenge activities will take only minutes to do. (And they're all related to stuff you'll be doing if you celebrate Christmas, anyway.) 
Will there be prizes for participating? Oh, heck yeah, there will be! 'Tis the season, y'all.
You could win a scholarship to my tidy habits mini-course, The Rule of 3, if you tag a friend on Instagram or invite them to join the Clutter Fighters.
Plus there will be several other special prizes during the next 12 days. I'm feeling festive! Who knows what will happen.
I'll be sending out quick emails with the challenge for the day. We'll be decluttering one holiday-themed item each day. And there will be a present for everyone on Day 12. (Clutter-Free, I promise.)⁠
Follow along with me and let me know what you find to declutter (just hit reply to any of the challenge emails or posts on social media).
You can sign up for the challenge emails below, and I'll send you a clutter-free Christmas gifts for kids guide, as well.
I hope you'll join in. I'm looking forward to some festive decluttering over the next couple of weeks.
Want even more inspiration? Like our Facebook page for daily inspiration and join the Clutter Fighters private decluttering Facebook group where we cheer each other on in our journey to conquer the chaos!