How to Change Your Mindset and Declutter Your Home at Last (Part 1)
IN THIS POST: The mind/clutter connection and how to change your mindset from a negative into a positive one to help you declutter your home.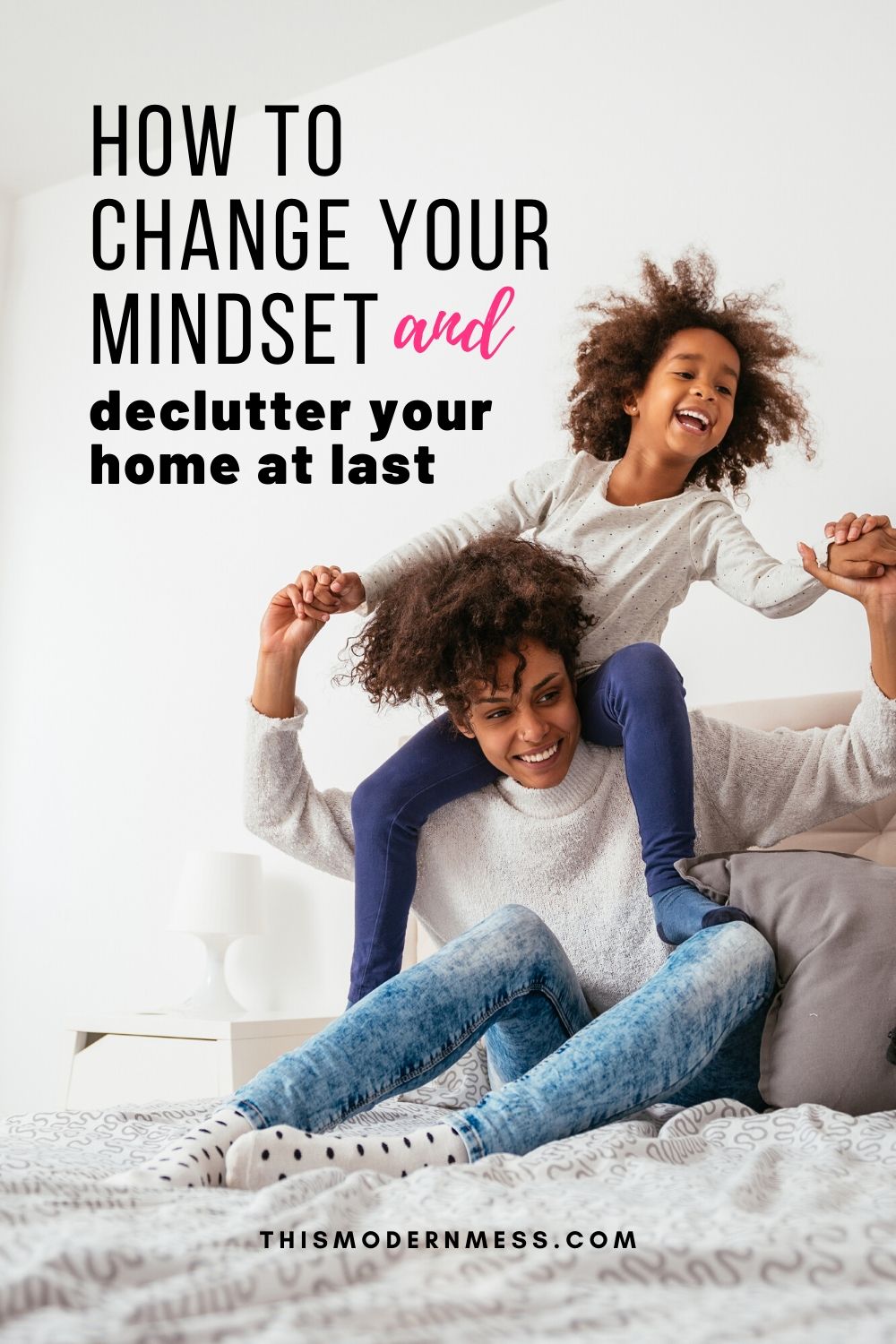 Before you can declutter your home, you have to want to declutter your home.

Let that sink in a bit.
There will be a moment, or maybe a sequence of moments, thoughts, or feelings that push you toward the point of no return, that moment in time where you turn 360 degrees in an instant … from NOPE to YES, PLEASE … from I CAN'T to I CAN.
And that change? It's called a mindset shift.
When you choose to rewire your brain, you alter the way you think about all the things in your home that surround you and overwhelm you. And the moment you change your mindset is the moment you choose growth.
(For me, it was right after I got married, freshly newlywed, just moved in to our first apartment together, looking around at all the boxes of stuff and nowhere to actually put it. I wanted our home to actually feel like a home, and so I had to begin making all the decisions I had put off for so long, one box and room at a time.)
But to get there in your own mind, to choose growth and change, you have to realize there is a need for it in the first place. You have to face the clutter facts and the underlying reasons for your clutter.
So let's dig in, shall we?
The avoidance of negative emotions and feelings is often what motivates us
First and foremost, it is often negative emotions (or avoidance of them) that drive our clutter.
We can't decide what to do or where to start, or we become overwhelmed by the scope of our project, so we do nothing.
We don't want to hurt anyone's feelings, so we keep something we will never use.
We are uncomfortable saying no, so we overcommit our time.
We feel sad when we go through a deceased loved one's belongings, so we set them aside for later.
We feel tired, or bored, or unhappy, so we don't want to tackle a new project and expend the effort it takes to complete it.
We are worried we will need something in the future, even though we have not needed it much in the present or past.
We cringe at how much an item costs that we don't want anymore. Or we worry about having to buy another one later if we get rid of it now.
See? These are all NEGATIVE mindsets. To overcome those reactions, we must change our mindset!
Negative mindsets fuel our fears and hinder our ability to change
Not knowing where to start, or being overwhelmed and giving up —> STRESS, AVOIDANCE
Not wanting to hurt someone's feelings —> PEOPLE PLEASING, AVOIDANCE OF CONFLICT
Being uncomfortable saying no —> PEOPLE PLEASING, AVOIDANCE OF CONFLICT
Feeling sad going through items —> AVOIDANCE, FEAR
Feeling tired, unhappy —> AVOIDANCE, STRESS
Worries about needing something in the future —> FEAR, SCARCITY
Cringing at how much something cost/worrying about replacing it —> FEAR, SCARCITY, AVOIDANCE
When our decisions are driven by these mindsets, they become deeply ingrained in us. Sometimes, these mindsets are there for very real and difficult reasons (grief, financial insecurity, loss, mental illness) that require more grace and professional help than just a simple "push through it" admonition.
If you are experiencing the loss of a loved one, or a job, or finding it hard to cope, please don't feel like you have to do life on your own. You don't. Ask for help, either from a friend or a professional. I know there are helplines available for those who are buckling under the stress of very real challenges. I've been there myself, and one of the best things I ever did for my family during our most difficult seasons was telling my doctor I wasn't okay and getting the help I needed.
Many of those mindsets are prevalent in our society due to everything happening right now around the world. We are grieving loss of our normal, communally. And it hurts. It causes depression and anxiety and fatigue. Even those of us who "are doing okay" are not doing okay. This is not normal. This is scary. And that can severely impact your ability to tackle any project right now.
So, I'm not discounting that right now is hard. Those negative mindsets are always just a moment away right now, for most of us. Please don't think I am saying "oh, just get over it."
HOWEVER.
They do not have to have control over you. You can flip the script. You can change your mindset.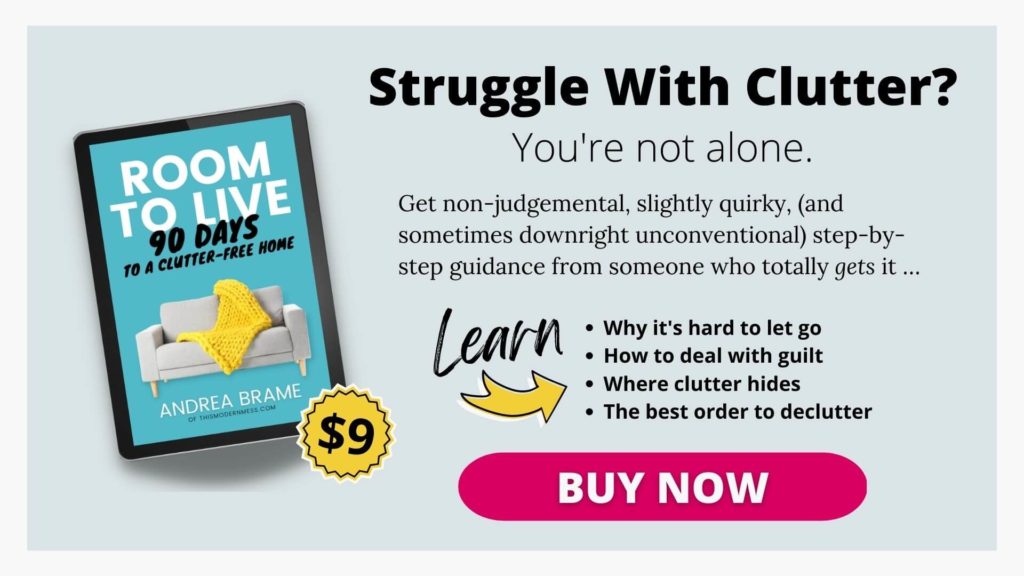 Positive mindsets help us overcome overwhelm and other deeply ingrained feelings about our clutter
Embrace new mindsets. Practice them until they are as familiar as our negative ones and replace them.
For instance, you could embrace a GROWTH mindset.
Let me give you an example. Right now, my 6-year-old son is learning new things all the time, both in school and at home. When he hits a problem that frustrates him, his go-to emotion is anger. He's fighting that icky feeling of "I don't know what to do," and that becomes "this is stupid! I hate it! I'll never be good enough! I can't do this!"
So we've been working with him to tell him, "YET … you can't do that … YET." He has to keep practicing. He has to be kind to himself and realize, he's still learning. The key is to just … keep … going.
That's the growth mindset at work. So simple, right? But oh-so-hard, sometimes, because as adults we don't always have that calm person alongside us to remind us of the "yet".
Remember the "yet."
To change your mindset requires patience, perseverance … and a whole lot of grace
Of course, knowing the benefits of positive mindsets and practicing them are two different things. I struggle with that all the time. While I've gotten a handle on decluttering and organizing my home, I still have a hard time changing my mindset and feelings about exercise, eating healthy, and staying motivated to clean (cleaning and decluttering? Two very different things.) I'm a work in progress. I'm preaching to myself as much as anyone else here!
So, let's see how we can flip the script and change those negative mindsets from earlier into POSITIVE mindsets:
Not knowing where to start, BUT refusing to give up —> ACCEPTANCE, GROWTH
Not wanting to hurt someone's feelings, BUT caring for our own as well —> GOOD COMMUNICATION
Being uncomfortable saying no, BUT holding firm —> HEALTHY BOUNDARIES
Feeling sad going through items, BUT fully feeling those things, and then letting the emotions pass so you can move on —> GROWTH, HEALING
Feeling tired, unhappy, BUT choosing action and joy —> GROWTH, HEALING
Worries about needing something in the future, BUT trusting that there will be more opportunities —> ABUNDANCE, POSITIVITY
Cringing at how much something cost/worrying about replacing it, BUT letting go because it is not the last time you will have the opportunity to get it —> ABUNDANCE, POSITIVITY
Now, let me assure you, I am not into being woo-woo. I'm not going to ask you to channel your inner this or that or "imagine" or manifest anything into existence through the power positivity alone. This all takes time. And hard work.
But you CAN change your thoughts. It's science.
We can develop new neural networks … new thought patterns, over time, and with practice. Sometimes, we need a little help along the way … through counseling, or even medications that help our brains calm down and stop a flight-or-flight-or-freeze response in overdrive that can leave us feeling helpless and overwhelmed (I've been there myself, and it does help).

We can choose growth.
In my next post, I'll dive deeper into practical ways to do this. But I want you to thoughtfully consider: do you want to be less cluttered? Do you recognize a need for growth in the way you see your own home and how you live your life? Are you willing to change your mindset about the "stuff" around you and shed the negative emotions surrounding it?
I hope you are!
You might also like: