39+ Ways to Give Your Home Some Love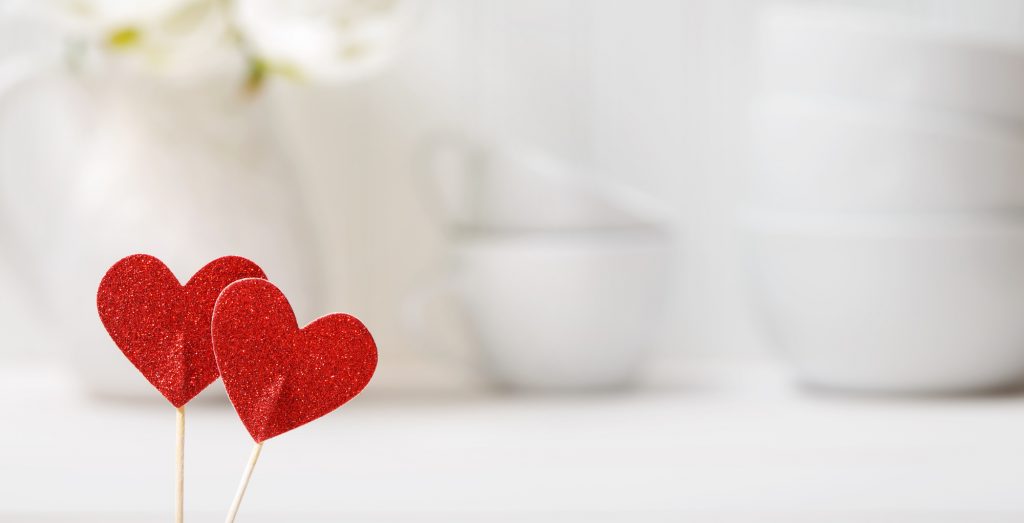 In this post: Give your home some love with this list of small but uplifting ways to enhance your home environment this season.
Funny how the people and places we spend the most time around—because we really like them—can also become the people and places we take for granted. The ones we don't nurture as much as we should, because they're "okay" and we need to work on other things.
This includes taking ourselves … and our homes … for granted. Letting things slide because only we notice. Maybe let the dishes sit a little longer than they should or cancel a salon appointment because we're too busy.
It doesn't have to be that way.
So, in the spirit of the Valentine's Day season, I thought it would be nice to focus on the ways you can give your home some love. Y'all. This is a big list. There's no way you can do them all. But just look at all your options! Pick 3-4 and give yourself and your home a lovely Valentine's Day.
This post contains affiliate links. I receive a small commission at no extra cost to you, if you click through and take action on an offer. As an Amazon associate, I earn from qualifying purchases.
Try these ideas to show your home some love
Light a candle. (I especially like these!)

Add a throw pillow

Or a throw blanket. (Saranoni blankets are my absolute favorite. Being wrapped in one is like being wrapped in a warm, fluffy hug.)

Schedule a deep house cleaning from a local service provider

Invest in new wall decor

Add a table centerpiece

Buy fresh flowers

Get a live (or faux!) plant

Switch out seasonal décor

Or just mix it up! Change the room a favorite décor piece is displayed

Make a welcome sign for your entrance

Hire a professional organizer to create organizing systems that work for your family, your lifestyle, and your home's unique quirks. (Psst! If you're in the Nashville, TN area … you can even hire me!)

Practice gratitude for your home

Turn off all social media for a day

Listen to music while doing nothing else. Just soak it in.

Buy a new design magazine

Indulge in some cute cleaning products. They don't have to be ugly! (This is one reason why I love Grove Collaborative. Even their SPONGES are cute!)

Get a diffuser and some delicious smelling essential oils to diffuse. (Guys, I'm not "oily" as they say, but I do have a lot of synthetic fragrance sensitivities. Essential oils smell good without the—literal—headache of room fresheners).

Tackle that cluttered space you've been avoiding forever

Use the fancy dishes … just because. Why not?

Try some removable wallpaper. Go to town on an accent wall, dresser, or the inside of a bookcase or cupboard.

Double your normal recipe and invite friends over for a simple, no-frills Valentine's dinner

Crank up your favorite playlist and have a family dance party in the living room

Write a note about the things you love about your house and hide it somewhere for the next occupants to find one day. (John and Sherry of Young House Love did this!)

Watch a new home improvement show

Buy a painting (not a print!) from an up-and-coming artist

Make heart-shaped cookies

Simmer water and herbs and berries or fruit to fill the house with natural fragrances

Paint an old piece of furniture and give it new life

Make lavender sachets for your linens

Put fresh, cute shelf paper in your cabinets

Buy some house slippers … keep your feet warm this winter and your floors clean!

Invest in some wool dryer balls

Or a quirky, cute mug for your coffee bar

Take a picture of your home and have it turned into art

Make your own art! (It doesn't have to be fancy. Get a canvas and a few acrylic paint colors that work well together and make some color blocks, or just go to town and do something more free-spirited.)

Update a boring, functional gadget in your kitchen with something with a more elegant design

Try a new recipe you keep putting off trying

Change out the wreath on your front door with something seasonal
Too often we spend so much of our lives waiting for things to get better, for circumstances to be different, for more experience before we venture to try new things. Or we put off good things to focus on necessary things. Sometimes, this is simply good #adulting. Other times, it's an excuse to stay busy and we don't let ourselves rest. Renew.
Don't forget that the simple things in life are often the best.
So if nothing on this epic list sparks your interest, come up with something that does and let me know in the comments!
And remember: you're worth it.