How a Decluttering Challenge Will Change Your Life (Or at Least Your Home)
One of my favorite ways to declutter my home is by participating in decluttering challenges, so I wanted to share here how a decluttering challenge can revitalize your decluttering journey. And, you know, change your life.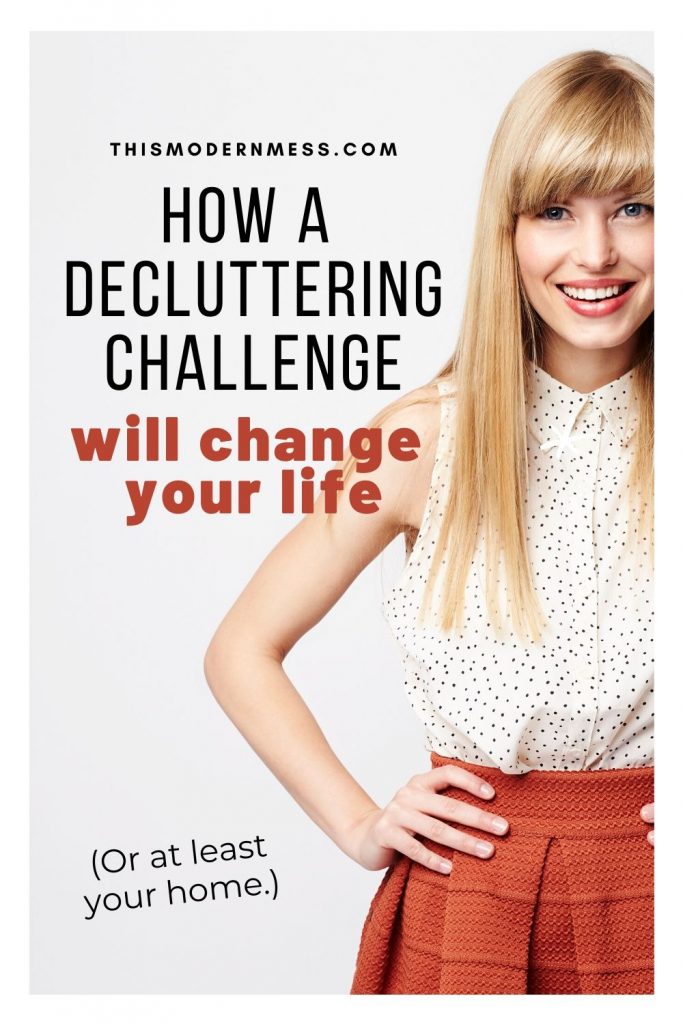 What is a decluttering challenge?
It is a short-term, high-intensity project compiled (and usually led by) a blogger or organizing professional. Sometimes, the instructions come by email or in a printable document. Other times they are completely held within a Facebook page or group, or by using hashtags on Instagram.
Who participates in a decluttering challenge?
Anyone! Or, more specifically, anyone who would like to reduce the clutter in their home and feel less overwhelmed by the decisions required to sort an entire home full of "stuff."
When are decluttering challenges held?
All throughout the year. Although, January (right after New Year's resolutions are made) and spring (when many people are thinking about spring cleaning or the season of Lent) are particularly popular. Smaller decluttering challenges, meant to be performed solo, following a checklist or perhaps a book or blog post's directions, can be done at any point throughout the year.
Where can I find a decluttering challenge to participate in?
There are several well-known bloggers who hold annual decluttering challenges either on their blogs or through a membership site, such as Sarah Mueller of Early Bird Mom. Sarah has a paid membership challenge she opens annually. Others use email and hashtags and Facebook groups to encourage participation. I've participated several times in #40BagsIn40Days, founded by Anne Marie of White House Black Shutters (who also has also led a paid version with comprehensive tips for decluttering via email). Sometimes, the challenges are not hosted by any particular person but become movements online in response to other challenges, such as #40Days40Items.
You can also search Pinterest, social media, and Google for "decluttering challenge" and find ones to participate in that way.
This Modern Mess hosts decluttering challenges quarterly via our Facebook Group, Clutter Fighters. Members there have access to all of our free challenges and are supported by a community of amazing women who are also decluttering their own homes. Join our email list to be notified first of upcoming challenges! (I will also update this blog post during upcoming challenges.)
How will a decluttering challenge help me?
It all depends on how much you pour into it and what stage of decluttering you are in currently. If you've not decluttered much at all at this point, and are new to the process, you can expect to find a lot of value in a decluttering challenge because so much will be new to you and you will find more tips you can use on your own decluttering journey.
Those who have started decluttering, but get a little lost in the trenches, will gain direction and learn more about their trouble spots, perhaps digging a deeper into helpful tips they can implement immediately.
And those who have been decluttering for a while, and have gone through most of their house already, get a refresher, and renewed zeal for their ongoing task. They firmly establish the habit of decluttering.
Why should I join a decluttering challenge?
Because it gives you a nudge. A goal. An incentive to keep going. If the decluttering challenge you follow is self-paced, it can help you get the chaos under control in your home if you follow through. But if it is led by someone who will push you to finish? Even better.
Because it is exactly how it sounds: challenging. Participating in a decluttering challenge is the difference between taking a walk after dinner and entering a 5k. One can be self-paced, pleasant even, but finishing your evening stroll isn't nearly as satisfying as crossing a finish line during an organized event, knowing you have challenged yourself in the company of other people pushing toward the same goal.
Because you don't have to think about anything. The challenge is laid out for you. You don't have to wonder, "where do I start?" You don't have to feel overwhelmed. You just … follow the steps. It's a load off your mind.
Because it changes how you think about clutter. Over time, doing decluttering challenges retrain your brain to think in a new way. The questions asked will become ingrained in your psyche. It will eventually become the new normal to evaluate, "do I really use this?" or "do I need this" and even "do I even LIKE this?" Plus, you'll not have to wonder what to do with the things you decide to donate or toss, because you will have already learned different places to take what you have decluttered from your home. The learning curve is not as steep.
Because accountability is a powerful thing, and so is positive peer pressure. Being surrounded by others who are trying to do the same thing, having similar struggles, and helping each other figure out how to solve obstacles is empowering. And accountability is proven to help you succeed.
Because others celebrate your victories with you. There is nothing so rewarding as a group full of cheerleaders ready and waiting to celebrate every one of your victories along the way—however small they may be. Y'all, if a gold star ever motivated you, if someone thinking you were cool ever made you feel awesome, if someone telling you YOU CAN DO IT ever helped you finish strong … a decluttering challenge group can do that for you … over simply throwing out a receipt from 2003. And sometimes the amazing feeling of posting a before and after of one of your living spaces or even just a desk drawer, and other participants oohing and ahhing over your progress is enough to keep you going. Simply put? It just feels good. ESPECIALLY if you get things done.
Because there is a deadline to complete your tasks. This is not indefinite, ambiguous, or unknown. You can't delay it. Even if it is a self-paced challenge, there is an end goal and you can set an end date for your efforts based on that goal. Just like crossing the finish line of that 5k we discussed earlier, you don't have a nebulous forever to get it done. You have a defined timeframe in which to complete your finite tasks. And let's face it: we all put things off until there is a deadline. (Or maybe that's just me?)
---
"The more choices you make throughout the day, the harder each one becomes for your brain, and eventually it looks for shortcuts, usually in either of two very different ways. One shortcut is to become reckless: to act impulsively instead of expending the energy to first think through the consequences. (Sure, tweet that photo! What could go wrong?) The other shortcut is the ultimate energy saver: do nothing. Instead of agonizing over decisions, avoid any choice." – New York Times, Aug 17, 2011
---
Because it sets limitations. One of the reasons people feel like they can't start cleaning or decluttering their home is because there's just so much. And since no decluttering challenge can cover every little thing in a small amount of time, it has natural parameters put in place and the need to make decisions is reduced. Ever heard of decision fatigue? It's when we are faced with so many decisions that we shut down. As you can see from the quote from the New York Times above, without limits we avoid making the decision at all, or we have a reduced ability to make wise trade-offs with our time and resources.

So how does a decluttering challenge help with that? It limits choices. No more agonizing over what to do or which method to use: you just DO IT. (Sorry, Nike.) Essentially, your brain recognizes you don't have to do everything … just these certain things in this certain order. Phew.
Because it's fun! How often do you keep up with something if there's not at least, as Mary Poppins would say, an element of fun. Participating in a challenge gets your adrenaline pumping in a good way!
BONUS: Your house becomes more livable, you gain back valuable time previously wasted hunting for stuff, you clear your mind, lessen stressors in your home, and, I dunno, can walk into your closet without tripping on all the boxes of random stuff you keep meaning to put "somewhere." Win, win, win!
Overwhelmed by clutter? You NEED a decluttering challenge!
If you are looking for inspiration and direction to conquer the chaos, search for challenges and choose those that match your personality and decluttering needs. A good decluttering challenge will inspire you, instruct you, and be enjoyable for you.