Cleaning Your Home: The Bare Essentials Guide
When life gets busy, kids are clingy, or you just don't want to get off the couch, cleaning your home can feel like a dreaded chore. I know. I've been there. I promise.
I am still there on most days. At heart, I'm a lazy person. I'd rather read a good novel or procrastinate on social media any day than spend hours scrubbing, dusting, or wiping down baseboards. And worse, the work literally never ends. Is there anything more discouraging than a task that will never be DONE?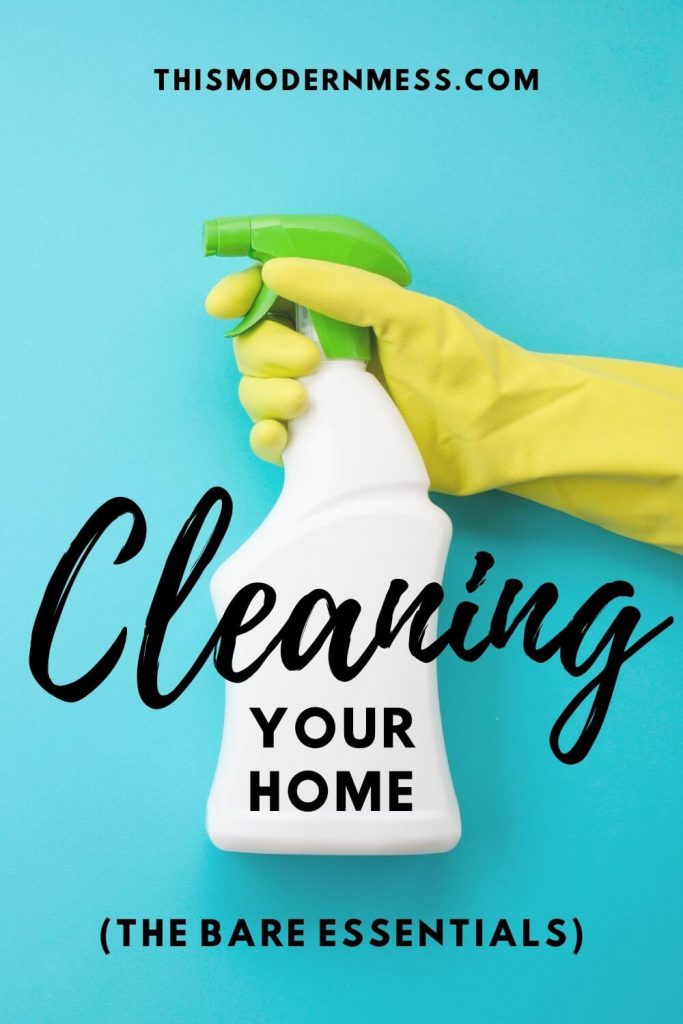 But I'm going to tell you a secret: on days you want to throw in the towel and give up, focus on the barest of essentials to get you through. Do these few things that will keep your home from descending into chaos.
1. Quick Tidy (Twice a Day)
Look around and determine what areas are the most cluttered. Start cleaning your home there. Set a timer and make a game of it.
Throw the stuff that doesn't belong there in a bin, a laundry hamper, even an Amazon box. (Or whatever company you shop. Don't tell me you don't have any online shopping boxes lying around somewhere!) Give your kids their own baskets to pick up their own toys and games. Ten minutes. GO!
When all else fails, and I don't know how to begin, I go to my front door and work my way into the main living areas of the house. The important thing is just keep moving.
Take those piles to the places they really belong. But don't overthink it. Whatever you don't know where to put, stays in the container for now. You can always come back to it later. Remember: just keep moving.
2. Quick Clean
Clear the dishes out of the sink. If you have a dishwasher, put in a load. Run a load of laundry. Throw out any trash on the counters (like this morning's Starbucks cup).
Grab a cloth and do a quick wipe down of counters. Head to the bathroom and wipe down those countertops, too. Sweep the kitchen. Remove the trash in the trash can and put in a new bag. Done.
If you can do some dishes, run some laundry, wipe down the counters, take out the trash, and make a quick sweep of the kitchen, you're golden. You've done just enough cleaning to keep you going. If you want to do just a tiny bit extra, make the beds! It's amazing what a freshly made bed can do to spruce up a room.
It might be all you CAN do today. And that's okay. Really. You kept it from getting worse. You can start improving it tomorrow. Go rest.
The aim here is for progress. Not perfection.
3. Plan for Progress
Don't waste time feeling guilty you couldn't get to it all. Do what you can, spend time with your family, and then, when you have a moment where you can really sit down and focus (if you're like me, that's after the kids are in bed), take out a sheet of paper, or your phone notes application, or your computer, and start to list out all the tasks that you need to complete while cleaning your home. List out what you need to do in the next two weeks, twelve weeks, twelve months to conquer the chaos.
Make sure to keep the tasks manageable in, say, 10-30 minute segments of time. Realistic to-do list items you can fit in the moments of your day around your busy schedule to move forward just a little bit more. Assign yourself some of those specific tasks each week. And keep going.
When you're ready to go beyond the bare essentials, move on to establishing daily habits that will set you up for success. You've got this!